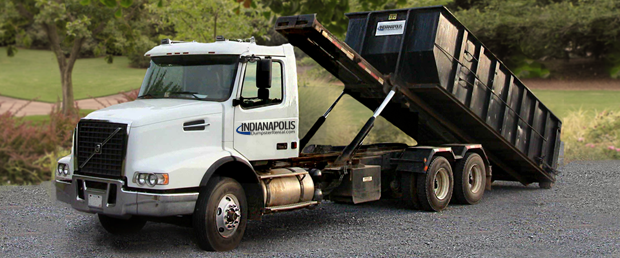 Indianapolis Dumpster Rental is one of the most trusted waste management companies in the Midwest. We service the disposal needs of countless individuals and companies in the city proper, as well as surrounding communities. We take down our customers' orders on a daily basis, and we are always vigilant about making sure our roll-off dumpsters make it to our customers on time. We provide a quick delivery service that takes just 1-2 business days to fulfill. Thanks to our timing and dedication, we can make sure that everyone is able to get started on their cleanup as soon as possible!
One of the great things about working with our company is the flexibility we afford our customers. Projects almost never go according to plan, and we totally understand that. That's why we let our customers decide when they want to receive their dumpsters. And we also allow them to make the call as to when we send a driver out to pick them up. We never show up on the last day of the rental period and take away the dumpster. We wait to hear from you when you will be finished with your dumpster. And even if you end up keeping it for longer than 14 days, we don't penalize you for it. We only charge a flat fee of $10 for each additional day that you keep the bin.
CHOOSE INDIANAPOLIS DUMPSTER RENTAL AND REAP THE BENEFITS!
A standard rental period of two weeks, with additional days available at a flat rate of $10 per day
Customers save an average of $25 to $100 through our service
Most customers will receive their order within two business days!
Every size we offer is available to rent in any quantity
Just one five minute phone call is all it takes to order!
Our dumpster rental service is streamlined to the fullest extent. The ordering process beings with a single phone call that takes less than five minutes to complete. Within those five minutes we'll chat with you about the work you are doing and assess the disposal needs of your project.
Our customer service representatives have worked with many different people over the years. Thanks to their experience, they have developed an uncanny ability to figure out which of our dumpster rentals will fit a certain disposal project. So if you are at a loss of which sizes to rent, they can provide you with a solid recommendation!
Every roll-off dumpster is built to handle a wide assortment of debris, so you shouldn't run into any problems while filling up your bin. The only thing to watch out for is that you do not mix in any unauthorized waste. Any dumpster that is rented for disposing of just household debris or construction debris can only be filled with that type of debris. Waste management facilities are not designed to sort and dispose of both of these types of debris, so they must be kept in separate open-top containers.
As long as you follow that guideline you should be all set to rent one of our Indianapolis dumpster rentals. Call 317-667-0685 today to order!